Staying at home can be fun if you have a well-stocked wine fridge with a diverse selection of wines. Whilst wine travel is a distant possibility given global travel ban, as wine lovers we can always plan a little round-the-world-with-dozen-wines tour at home, where we "palate travel" the world over wine tasting. Team WWX has come up with three itineraries for those who need some help mapping out their "house" wine tours!
House Wine Tour Itinerary 1 – The European Route!
This itinerary celebrates some of the most classic wine styles in major European wine regions. Start with a bubble bath in your bathroom and enjoy a glass of the most famous bubbles from France: Champagne. Made with a minimum of 15 months ageing before release, Champagne comes with a complex combination of citrus and orchard fruit notes and brioche, yeasty characters. Spoil yourself and go for a bottle of vintage champagne, where an ageing process of up to 10 years isn't uncommon!
Sweeten things up in the bedroom with one of the finest, and most versatile white wines of the world – German Rieslings. When coming from Mosel Valley, you will find that these Rieslings are mostly made in traditional ways i.e. the wine often retains some form of residual sugar. (Kabinett denotes one that comes with a touch of sweetness; whilst Trockenbeerenauslese denotes one that comes with a decadent, luscious amount of sweetness.) If we are to spell out a bottle of German Riesling as a cocktail recipe, it'd probably go like this: 1/3 natural sugar, 1/3 acidity, 1/3 minerality, finished off with a generous dash of floral and fruit perfume. It's a perfect bedroom wine – it's a great wine to enjoy when you wake up; or when you retire to bed.
For the love of red wines we feature France's Cru Classe Bordeaux, Spain's Rioja Gran Reserva and Italy's Super Tuscans. These three styles are usual suspects in the cellar of a fine wine collector. All of them are traditionally made as a blend of regional varieties. Cru Classe Bordeaux and Super Tuscans share more similarities, for the concept of Super Tuscan took inspiration from Bordeaux back in 1960s. Rioja Gran Reserva puts the limelight on Tempranillo, which often makes up the majority of the blend, with the remainder traditionally completed with Viura and Macabeo.
Final stop – sip a glass of Vintage Port on the balcony! Coming from a picturesque UNESCO site Douro Valley, Port as a wine style signifies not only one of the most complex wines of the world, but also a royal symbol! The Queen of England has two recreational loves: Corgi, and Port. The Queen has the habit of enjoying a glass of Port at the end of the meal. Let's try this Royal ritual at home!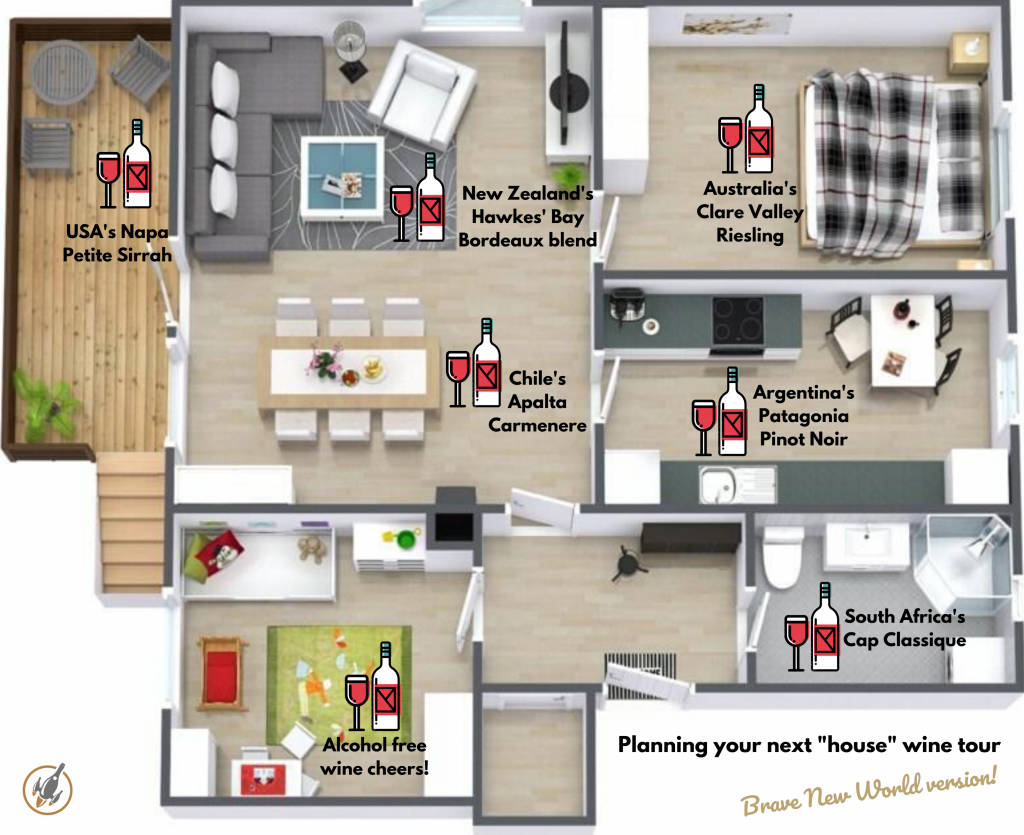 House Wine Tour Itinerary 2 – The Brave New World version!
This itinerary highlights top quality – great value – wines from New World wine regions. Some of them have been recognized for their resemblance to Old World counterparts in blind tastings. When aged, Hawkes Bay Bordeaux Blend, or South Africa traditionally made sparkling wines Cap Classique, it is not unusual to see professionals getting duped in blind tastings, calling these wines Cru Classe Bordeaux blend or French champagne!
Rieslings from Australia differ from traditional German Riesling styles (whilst it is more similar to modern German Riesling styles) as Australian Rieslings are always made bone dry. 2 hours drive north and inland from Adelaide, Clare Valley, one of the two key regions for great Australian Rieslings, sits on an altitude of 300m to 500m, thus providing a cooler climate fit for the growing of Rieslings. Clare Valley Rieslings benefit from early harvest and minimal oxygen exposure during winemaking, making these wines very refreshing drink with zesty acidity and a good bite. Great with oysters!
Heading over to the Americas, let's start with the classic region of Napa Valley. Whilst Cabernet Sauvignon claims the throne as the MVP of the valley, when it comes to value-driven options, do seek out for Petite Sirrah (also called Durif). There is a wealth of old vine Petite Sirrah in Napa Valley. Wines made with 100% Petite Sirrah come with a sturdy tannic backbone and dense yet well focused dark fruit flavours. Prefer something that resembles a little more like Cabernet Sauvignon? Try Carmenere especially from the sunny, inland region of Apalta at the foothills of Andes mountain. If you are looking for elegance, head to the kitchen for a sip of Argentinean Pinot Noir from Patagonia. Known better for its suitability for outdoor adventure, Patagonia (or in wine terms, Rio Negro) is an up-and-coming region for cool climate Pinot Noir.
Lastly, allow us to give a special mention to alcohol free wines. This category of wines enjoys rising popularity over past few years as the younger population embraces the notion of moderation when it comes to alcohol consumption. Technology like reverse osmosis help dealcoholize wines. Who says there isn't a wine for everyone?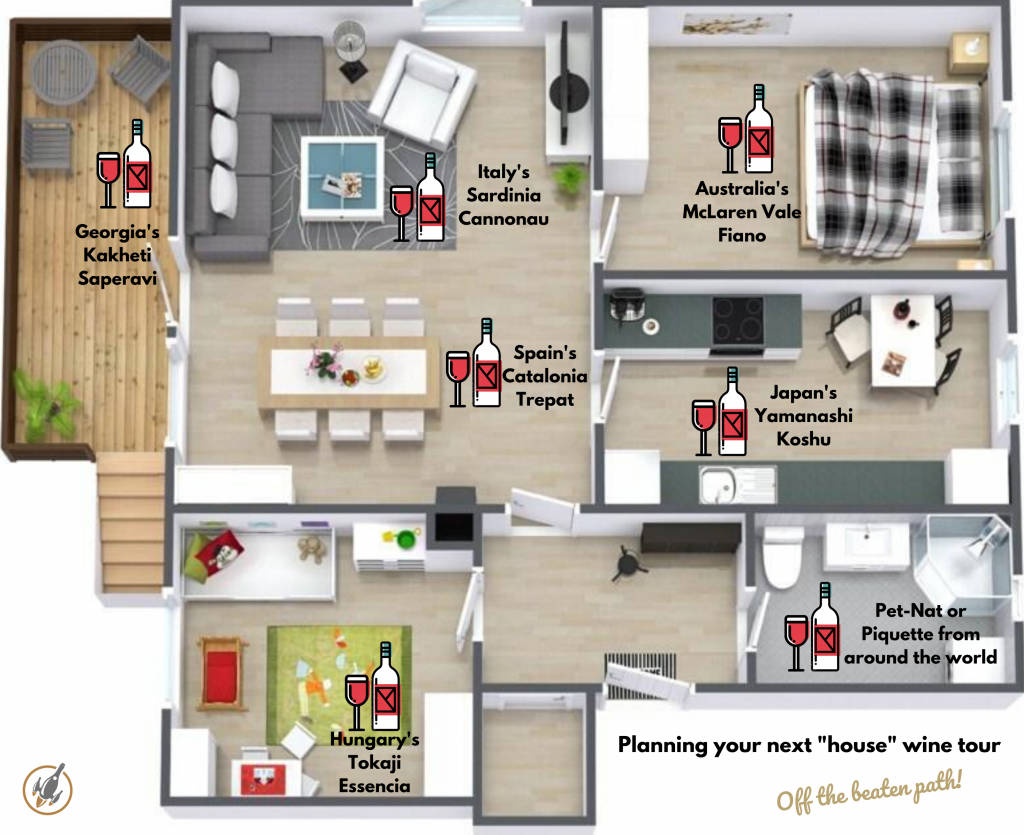 House Wine Tour Itinerary 3 – Off the Beaten Path!
This itinerary spells one thing – excitement! To us, nothing beats discovering new wine styles. In fact, what we highlight on this itinerary are far from being all modern day wine experiments. A good share of the above "Off the Beaten Path" wines are but historic styles that have been forgotten over time. Take Georgia's Saperavi as an example – Georgia as a country has been making wines for 8000 years and Saperavi is one of the oldest cultivars. Often fermented and aged in large 2000L clay vessels called Qvevri, Saperavi-based wines are intensely coloured, concentrated and earthy. We will spare some extra efforts to introduce all these wines to you – as it may be less likely that you have come across these "off the beaten path" candidates.
We put Japanese's most famous wine Koshu in the kitchen for obvious reasons. Japan's well-regarded gastronomic scene comes with their mastery of seafood preparation. Japan's Koshu white wines, most famously made at the foothills of Mount Fuji in Yamanashi prefecture, pair perfectly with the nation's sushi and sashimi signature dishes. Lean, minerally and focused, Koshu may not be a wine that dazzles the drinker at first sip; yet it is a wonderful food pairing wine and complement umami flavours very well.
Seeking Mediterranean twists? McLaren Vale's Fiano, Sardinian's Cannonau and Catalonian Trepat present three exotic experiences. Australia has seen increasing use of Mediterranean varieties over past 10 years as the country continues to adapt to drought-like growing conditions. Originated from Campania of Southern Italy, Fiano needs little water to thrive, provides high quality grapes and offers an exotic mix of floral musk, honey and spice notes.
Back to the European continent, Italy's second-largest island Sardinia sees Cannonau, better known as Grenache internationally, plantings all over the island. On the rugged island of Sardinia, it is easy to find Cannonau vines ageing 50 years or more. Old vines translate into greater flavour intensity and versatility. If you like your Chateauneuf-du-Pape Grenache based wines, or Spain's Priorat Garnacha expressions, try Cannonau de Sardegna.
The last hidden gem Catalonian Trepat might be the least known among the three. What's much better known than the red grape Trepat in the region where it thrives is the Cava wine style. In fact, Trepat is usually employed to contribute colour and structure in Cava rosado (rose version of Spanish sparkling wine Cava). Recent renaissance has brought about renewed interest in medium-bodied, fresh and elegant still red version of Trepat. Look for Trepat from Conca de Barbera or Costers del Segre if you are looking for quality.
The second last destination takes us to one of Hungary's most precious and historic wine style Tokaji Essencia. We put it in the kid's room for arguably, this wine is child-friendly! Tokaji Essencia as a wine style usually reaches an average of 3% alcohol only, the majority of the wine (by majority we means a whopping 85%) is made up of pure residual sugar from free run juice off Furmint berries. This is possibly the only wine where we'd ask you to enjoy spoonful, instead of glassful, of. A toast to Hungarian interpretation of hedonism!
Lastly, a warm welcome to the exciting rebirth of century-old, artisan way of sparkling wines. Pet-Nat, which stands for Petillant Naturel and Piquette are both very old ways of winemaking. Makers of these two styles usually avoid the additions of any chemicals or preservatives, and simply let Mother Nature does her work. The result is the production of very distinctive, usually cloudy (imagine cloudy cider) and a little funky tasting (think craft beer) grape-based alcohol beverages. You think you have a hip gene in your palate? Give Pet-Nat and Piquette a shot!